A few words about us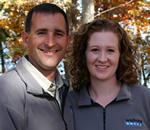 ShoreShapers Inc. is owned by Pete and Deborah Cox. Pete was a cadet at Texas A&M University and graduated in 1992. He previously taught English in Azerbaijan, and worked in Project Management for Chemonics International, an international development company working under contract for the US Agency for International Development. Deborah graduated from the University of Virginia in 1991, and previously worked at the Fund for American Studies in Washington, DC. They reside in Hurt, Virginia with their three children, and manage a sister company known as Lakeside Services.
ShoreShapers International
We offer assistance to companies wishing to do business overseas, but who are concerned about the complications involved in working abroad. We can research the business climate, register your company, locate office space and screen potential employees for you. We can also help you with the logistics of living and working in the developing world. Our country experience includes Azerbaijan, Republic of Georgia, Turkey, Egypt, Morocco, Senegal, The Gambia, and several countries in Western Europe.